Overseas students could return to Victoria by the end of the year after the state government approved a plan to revive the $14 billion international education sector that has been decimated by the COVID-19 pandemic.
In the first instance, 120 international students a week will be permitted to arrive in Victoria and universities will cover the hotel quarantine costs of at least $5000, under a plan to be sent to the Commonwealth for approval by the end of the week, a senior government source said.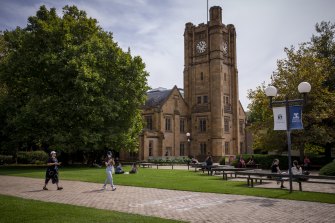 Hundreds of international students could return by the end of the year. CREDIT:WAYNE TAYLOR
Victorian universities have been desperate to welcome foreign students and were increasingly frustrated with the state government's lack of planning for the sector.
Under the scheme approved last week by senior cabinet ministers, international students could return by Christmas if the federal government approves the plan.
Ten vice-chancellors signed a letter of support for the government's plans in recent days, although some in the sector were kept in the dark about the scheme, according to education industry sources.
Deakin University vice-chancellor Iain Martin said while the number of international students initially allowed to return was "small", it would send the strongest signal yet that Victoria, and Australia, was opening up to the rest of the world.
"We are delighted there's a plan and a path forward," Professor Martin said."Symbolically, it is incredibly important to say to the rest of the world, 'Australia is open'. There is no doubt that despite our success in minimising illness and death from COVID, many of our international partners do not understand the path Australia has taken, so a signal to our partners and global communities we are opening up is incredibly important," he said.
In April, a group of universities proposed to help pay for a quarantine scheme modelled on the Australian Open program, in which tennis players were allowed into the country despite a strict cap on arrivals. They wanted to see 1000 students flown in to Melbourne every two to three weeks and placed into special hotel quarantine arrangements.International education has been Victoria's largest services export industry for more than a decade. In 2019, the state hosted one-third of Australia's total onshore tertiary enrolments, generating a record high $13.7 billion in revenue. In 2018, the sector supported almost 80,000 jobs.
Before the pandemic, Victoria had more international school students than any other state or territory, while the loss of hundreds of thousands of international students under Australia's strict border closures had cost the national economy $18 billion, according to analysis conducted for The Age. Universities had also slashed 17,000 jobs nationally, and 8000 across the state, following the slump in revenue from high-fee-paying overseas students.In Victoria, the economic hit has been estimated at $6 billion, while in New South Wales, it is expected to be as much as $7 billion. The forecasts by Mitchell Institute had shown the economic damage was likely to worsen throughout this year.
"The international student community has brought a great deal to Victoria, both through their engagement with campuses and their engagement as part of our community – all of that has had a positive contribution," Professor Martin said."It's been hard for everyone for well over a year."
A major hurdle to accepting international students was lifted on Friday after Prime Minister Scott Morrison announced the ban on international travel for Australians would be lifted from next month. The Commonwealth had required states to hatch a plan approved by their chief health officers and include quarantine beds above those reserved for returning Australians.
Calls for the Victorian government to devise a plan had grown even louder in the past week after NSW a fortnight ago announced a pilot program to welcome 125 students a week in December. South Australia's plans for the return of international students was approved earlier this year.Victorian opposition spokesman for higher education Matthew Bach said the government must urgently implement a plan for the return of international students.
"Victorian universities are bleeding enrolments by the day, whilst other states have plans in place," he said. "A Victorian plan is now a matter of the utmost urgency to get our state back on track."
A Victorian government spokesman said: "We will present our Student Arrivals Plan to the Commonwealth shortly. The plan will provide for the stages and safe return of international students."
A parliamentary report on the state's finances released on Tuesday shows the Andrews government has been running the quarantine system without a budget and has not provided an explanation of how the program is being funded.
Hotel quarantine cost at least $442.2 million from July 2020 to March 2021 – about $49 million a month. It also remains unclear how much has been recouped from charging returning residents and travellers for their stays.
Source: https://www.theage.com.au/politics/victoria/international-students-set-to-return-to-victoria-this-year-20211005-p58xe6.html